Press Release
Ruder Finn Launches AI-powered Creative Studio: RF Studio 53
Aug 01, 2023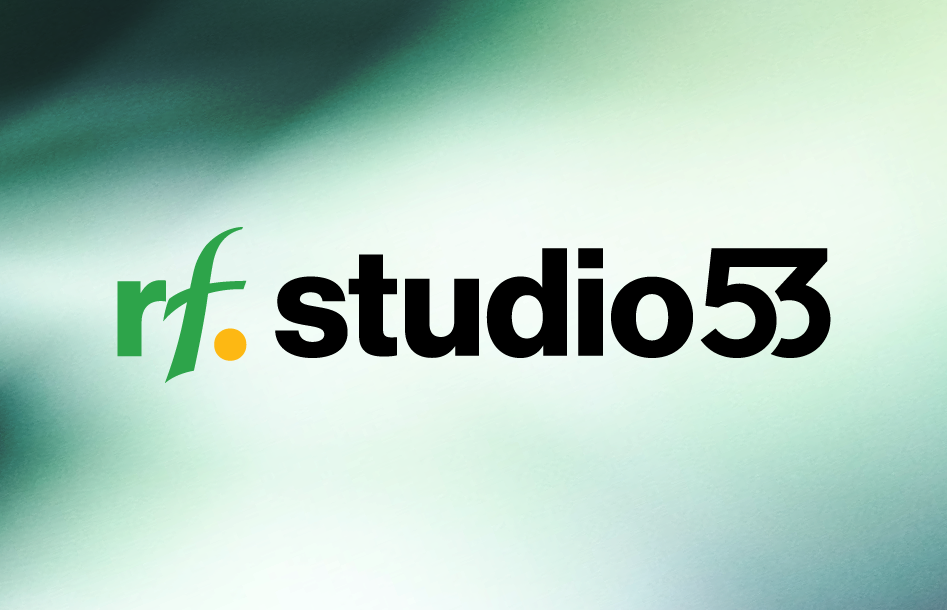 RF Studio 53 combines the imagination power of Ruder Finn's creative studios with the innovation power of Ruder Finn's TechLab
The creative and digital team of over 70 people spans North America, UK and Asia 
NEW YORK, August 1, 2023 – Ruder Finn, one of the world's largest independent global communications and creative agencies, announced today the launch of RF Studio 53. By bringing together Ruder Finn's award-winning creative and TechLab capabilities, RF Studio 53 combines the imagination power of the entertainment world with the data power of the AI world to drive a new era of
AI-powered creative.
"Studio 53's name was inspired by our 53rd Street NYC headquarters, a dynamic and open space that serves as the creative and innovation hub for Ruder Finn globally," said Kathy Bloomgarden, CEO of Ruder Finn. "While we continue to live in a hybrid work world, Ruder Finn is fortunate to have a collaborative meeting space where our creative and TechLab teams come together to create what's next for our clients. As the communications world is transformed by AI and other technologies, bold creative storytelling that's powered by machine learning will be critical to reach and move the right audiences across a range of emerging tech platforms."
"AI won't replace creative, creatives using AI will," added Michael Schubert, Ruder Finn's Chief Innovation Officer. "We are facing a critical juncture where AI is threatening to dehumanize the creative process. That's why we launched Studio 53, to create at the intersection of human imagination and digital intelligence."
RF Studio 53 will combine the creative and tech teams from recently acquired Osmosis Films and SPI Group with Ruder Finn's US and UK-based design and video teams along with developers from Ruder Finn's TechLab teams based in the US and India. The dynamic creative and digital team of 70+ individuals will be led by Osmosis's Zach Russo (Creative Director), along with Ruder Finn's Tejas Totade (Chief Technology Officer), SPI Group's James Koppenal (Managing Director) and Ruder Finn UK's Lee Manning (Global Head of Design).
"I'm thrilled to be leading this powerful fusion of storytelling, technology and design," said Zach Russo, Head of RF Studio 53. "Bringing together the industry's top storytellers, motion designers, and editors with RF TechLab's amazing developers means we can truly innovate across the full spectrum of creative storytelling, from best-in-class design, video and web solutions to immersive experiences across AR/VR and beyond. And by leveraging AI, we can do it smarter and faster."
"What distinguishes Studio 53 is its foundation in Ruder Finn's independence and focus on what's next," said Tejas Totade, Ruder Finn's Chief Technology Officer and RF Studio 53's Head of Technology. "With the emergence of trailblazing technologies, such as AI and spatial computing, our studio is free from the constraints of traditional rules of engagement. We can use these technologies to both efficiently scale and personalize our creative, while continuing to explore, experiment, and pioneer unprecedented breakthroughs for our clients."
"In today's fast-paced world, businesses must constantly innovate to reach and resonate with their target audiences," said James Koppenal, RF Studio 53's Head of Client Services. "By merging our award-winning technology, design, and creative talent into one studio, we can provide our clients with breakthrough ideas and results while providing a true growth engine for the agency."
"Design is a global language," said Lee Manning, RF Studio 53's Head of Design. "By combining award-winning design teams from across the US and Europe, we can create experiences and activations that truly cross borders as well as cultures."
RF Studio 53 will provide clients with full-service creative offerings from design, branding, and short and long-form video, to websites, apps and immersive emerging tech experiences from AI/AR to metaverse. RF TechLab will continue as Ruder Finn's technology and analytics incubator while Osmosis Films will remain as an independent label within Studio 53 producing original content across film and emerging platforms.
About Ruder Finn
Ruder Finn is one of the world's largest independent global communications and creative agencies. Founded in 1948, Ruder Finn has defined and redefined PR for 75 years, shaping communications that help move industry-defining brands, companies, and leaders from what's now to what's next. Ruder Finn provides clients with bold communications strategies based on a global perspective and localized market knowledge that redefine leadership, reimagine the marketplace, and rethink customer experiences around a shared sense of purpose. The agency is organized around five core areas of expertise—Healthcare, Technology, Commerce, Leadership and Workplace—with RF's Studio 53 and tech incubator RFTechLab providing cutting-edge predictive analytics, breakthrough creative, and customer-focused digital engagement. Ruder Finn has offices across 3 continents including the U.S., Asia and Europe. Wholly owned agencies within Ruder Finn Group include: Ruder Finn Inc., Studio 53, Touchdown, Peppercomm, Comunicad, Mantis, RLA Collective, jacobstahl and RF Bloom. For more information visit www.ruderfinn.com.
Submit