RF Media Insights
RF MEDIA INSIGHTS NEWSLETTER 5.2.23: What is News Today?
Jun 02, 2023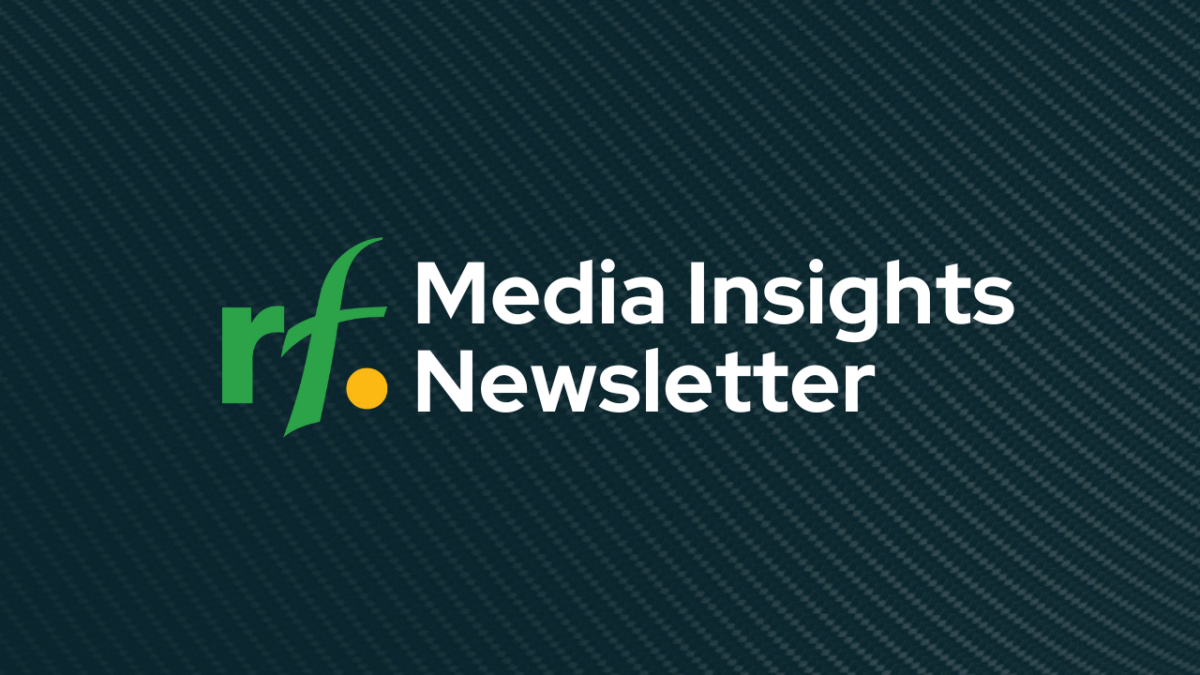 As the 2024 election looms, public, uncensored town-square style media interviews have been popular, and thought leaders, journalists, and media experts have mixed views. The reviews are just coming in for last night's Fox News town hall with Donald Trump in Iowa, moderated by Sean Hannity, and in mid-May, CNN aired the first major television event of the 2024 presidential campaign, a live audience town hall with Trump. The CNN town hall, which aired in prime time, included a studio audience that openly expressed their support for Trump. The crowd gave Trump a standing ovation when he walked onstage, applauded some of his comments and laughed at many of his quips. Tom Jones, a senior writer at the media research institute Poynter, criticized the event, saying the live crowd put CNN's moderator, Kaitlan Collins, in an almost impossible position as she tried to elicit straightforward answers from Trump and fact-check his comments. CNN CEO Chris Licht expresses an opposing view, stating on a network-wide editorial call, "People woke up, and they know what the stakes are in this election in a way that they didn't the day before. And if someone was going to ask tough questions and have that messy conversation, it damn well should be on CNN."
Meanwhile, Elon Musk has stated that he wants to turn Twitter into a "digital town square," but his much-publicized Twitter Spaces kickoff event, with Florida Gov. Ron DeSantis announcing his run for president, struggled with technical glitches and a near half-hour delay. This led media critics, including Jack Shafer of Politico, to comment that the best format for these interviews is likely a taped one, and one where the audience is not allowed to cheer the interviewee on or crash servers. As 2024 election content continues, it remains to be seen if the public will truly embrace 'town-square' style interviews.
Kathy Bloomgarden
CEO, Ruder Finn
The 'Squid Game' Phenomena
Netflix has made global content matter. Demand for Asian TV shows and films has risen in recent quarters, driven by hit shows like Netflix's "Squid Game," and recent film successes like "Everything Everywhere All At Once." Korean content makes up the bulk of Asian content libraries, but demand for Chinese and Japanese language also has been rising. While supply of Asian content is still outpacing demand, the gap between the two is narrowing. 60% of all Netflix members watched at least one Korean title in 2022, leading the streaming giant to invest $2.5 billion over the next four years to produce more Korean shows and movies.
Generative AI Has Made it to the Newsroom
AI may be the journalist behind the last article you read as the technology begins creeping into the newsroom. Buzzfeed was among the first news outlets to publish AI-generated content and articles, primarily consisting of SEO-driven travel guides. While news outlets like Buzzfeed are embracing the new technology, Roula Khalaf, the Editor-in-Chief of the Financial Times, is setting boundaries to "uphold the highest standard of journalism." In a recent opinion piece, Khalaf stated that the FT will continue to rely on humans for their reporting. While newsrooms must remain a hub for innovation, AI's role in the future of journalism remains uncharted.
The NFL's "Sunday Ticket" is Coming to a Bar Near You
In previous years, football fans would have to tune in live to old fashioned television to catch the game. Now, streaming services hold most of the rights. While DirecTV has engaged in a multiyear deal with EverPass Media to provide the NFL's "Sunday Ticket" package to commercial businesses, the satellite TV provider lost its 28-year hold on residential "Sunday Ticket" broadcast rights in December. Google secured a seven-year deal with the NFL to sell the package via YouTube. This shows how streaming services are increasingly more likely to pay the big bucks for exclusive rights over satellite TV providers. YouTube TV paid $2 billion per year to win the residential rights for "Sunday Ticket," a price DirecTV was unwilling to pay.
Upcoming Awards Deadlines
Added to Mailchimp
Upcoming Events to Watch
Added to Mailchimp
Media Moves
Barron's has tapped Megan Leonhardt as senior economics writer. She was previously a senior reporter at Fortune and before that covered money as senior reporter for CNBC.
Bloomberg Government has added one analyst and one reporter to its team in Washington, D.C.:
Cooper Lohr has joined as a legislative analyst. Lohr previously was writing posts and reports for the American Road & Transportation Builders Association (ARTBA).
Omma Seddiq has joined as a Technology Policy Reporter. Before joining Bloomberg, she spent almost three years at Business Insider as a politics fellow, a junior politics reporter and a politics reporter.
Bloomberg Law has hired two new reporters to its team:
Shayna Greene is now an energy litigation reporter after spending almost two years as a digital producer at POLITICO.
Drew Hutchinson has joined as a reporter and will be covering energy and environmental litigation.
Flavia Krause-Jackson has been promoted to executive editor at Bloomberg News at the London bureau.
Michelle Ma has joined Bloomberg News as a reporter on the power weather climate and natural disasters team, covering clean technology.
Bloomberg Opinion has named Howard Chua-Eoan as their new senior columnist based in London. Chua-Eoan previously was the international editor of Bloomberg Opinion.
CBS News has recruited Alisa Wiersema as a politics producer. She spent the past decade at ABC News in a variety of producing positions, most recently as politics producer.
Chandler R. Duster has been promoted to race and equality reporter at CNN. She previously was a breaking news reporter at CNN Politics, covering agriculture, justice, Congress, White House and campaigns.
Isabel Rosales has been promoted to the position of national correspondent at CNN based in Atlanta. Previously, she was a newsource correspondent at CNN.
CNN has promoted Kaanita Iyer to associate writer for CNN Politics. She joined CNN in 2021 as a news associate.
Kaitlan Collins has been announced as CNN's new 9 p.m. show anchor, officially launching in June. Previously, Collins was a chief correspondent and co-anchor on "CNN This Morning."
CNN has tapped Meg Tirrell as medical correspondent. She will report on health and wellness stories across all CNNplatforms. Tirrell joins the network from CNBC, where most recently was the senior health and science reporter.
Forbes has tapped Jennifer Aldrich as social media editor and will oversee the social strategy for Facebook, Twitter, Pinterest and Instagram at Forbes Vetted, the title's shopping vertical. She was most recently the social media editor at Dotdash Meredith.
Lauren Williams has been appointed deputy editor for race and equity at the Guardian US. She will lead editorial coverage on race, identity, and inequality across all teams and desks in the Guardian US newsroom. Williams joins Guardian US from The Atlantic, most recently as senior editor.
HuffPost has promoted Kevin Robillard to senior politics editor.
Samantha Rollins joined Insider as the deputy editor of entertainment.
Sally Holmes has joined InStyle as their new editor in chief. Holmes previously spent over five years at Marie Claire.
Hugh Dougherty has joined the New York Post as deputy news features editor. Most recently, he was a digital media consultant and before that spent nearly seven years at the DailyMail.com as executive editor.
David Gelles will be leading the New York Times' Climate Forward newsletter, as managing correspondent. Gelles was formerly a Corner Office columnist at New York Times and is also an author of New York Times bestseller "The Man Who Broke Capitalism."
The New York Times has added a deputy editor and a correspondent to its National Desk team:
Joining as a deputy editor for the National Desk of The Times is Henri Cauvin.
Michael Corkery will cover crime and public safety as a correspondent for the National Desk.
Cheryl Corley has been named Midwest bureau chief at NPR. She has been a reporter and correspondent for NPR for 28 years, covering all varieties of stories from her home base in Chicago.
Cassie Martin has been promoted to deputy managing editor with Science News. Martin has been with the magazine since March 2016 when she joined as an editorial assistant.
The Washington Post has announced that Sarah Ellison has taken the new role of national enterprise reporter. She will now focus on the intersection of democracy, politics and media. Ellison has been a staff writer at The Post since she joined in January 2018.
Meg Marco will now handle executive editor duties at Wired in New York. Marco had previously been the editor in chief of the Observer for almost two years.
Diane King Hall has joined Yahoo Finance as an anchor and reporter. She joins the outlet form CBS News, where she was a correspondent and fill-in anchor for "CBS Morning News" since 2017.
Yahoo News has promoted Lauren Johnston to executive editor.
Image of the Week (Open to suggestions)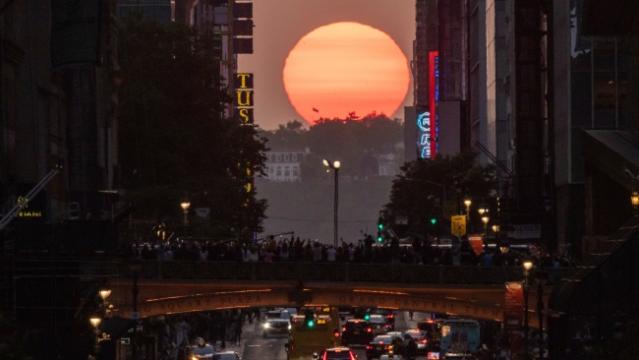 Thousands of New Yorkers flocked to Manhattan's streets on Memorial Day to catch a glimpse of the spectacular sunset known as "Manhattanhenge." Occurring twice in May and twice in July, the unique phenomenon features a perfectly aligned sunset beaming down the east- and westward roads of the borough's grid (Yahoo Finance).
Submit