Press Release
PRNEWS Names Ruder Finn's Gloria Rodriguez, Maryam Ayromlou, and Monica Marshall as 2023 People of the Year Honorees
Aug 17, 2023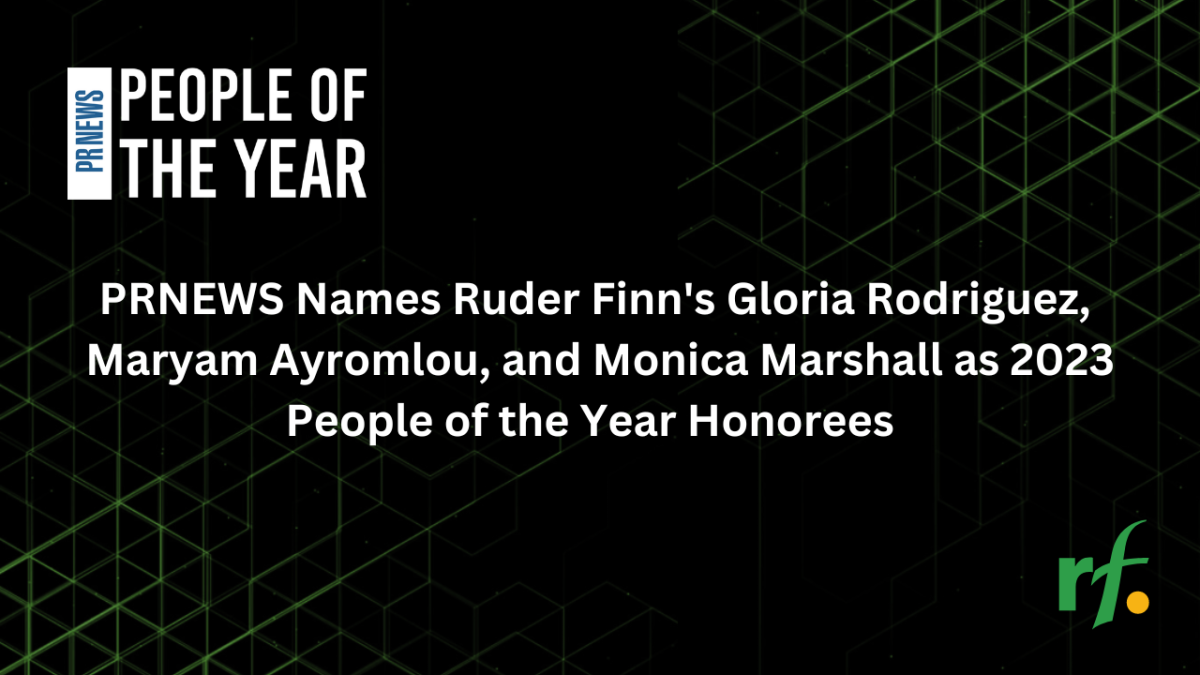 PRNEWS has announced the 2023 People of the Year honorees, who have been recognized for their innovation and impact on the communications industry and their organizations. Three leaders from Ruder Finn were recognized this year for their contributions:  
·       The DEI Champions: Gloria Rodriguez, President, RF Comunicad  
·       The Media Relations Titans: Maryam Ayromlou, EVP, Media Strategy & Content 
·       The Brand Reputation Mavens: Monica Marshall, Global Lead, RF Relate 
Gloria Rodriguez, President, RF Comunicad, is an industry veteran who is passionate about creating equal opportunity for all in the workplace. As founder and president of RF Comunicad, she has been on the forefront of the multicultural communications evolution in the United States and Latin America since 1985.  
Maryam Ayromlou, EVP, Media Strategy & Content, is an Emmy-winning TV news senior producer from MSNBC and CBS News turned senior communications executive with 20+ years of experience in both public relations and journalism. Her expertise in storytelling, thought leadership, and corporate reputation has brought the agency great success in the 12 years that she has been with Ruder Finn, as well as throughout her career.  
Monica Marshall, Global Lead, RF Relate, is committed to helping companies, governments, and NGOs understand how to manage issues, promote and protect their reputation and authentically communicate their sustainability, social impact, advocacy, and policy initiatives. Her proficiency in brand reputation and crisis communications stems from a career that has always been committed to authentically communicating purpose through reputation. 
"Our People of the Year honorees reflect the range of expertise needed across the PR and communications industries," said Erika Bradbury, Editorial Director of PRNEWS. "We are excited to recognize such a diverse group of individuals who are making their marks on the industry. Whether they are seasoned professionals or just at the start of their careers, this year's honorees demonstrate the impact that the communications industry has on all types of organizations." 
 
PRNEWS People of the Year Honorees will be celebrated at the Platinum & People Awards Gala on October 18th in New York City.  
Ruder Finn is one of the world's largest independent global communications and creative agencies. Founded in 1948, Ruder Finn has defined and redefined PR for 75 years, shaping communications that help move industry-defining brands, companies, and leaders from what's now to what's next. Ruder Finn provides clients with bold communications strategies based on a global perspective and localized market knowledge that redefine leadership, reimagine the marketplace, and rethink customer experiences around a shared sense of purpose. The agency is organized around five core areas of expertise—Healthcare, Technology, Commerce, Leadership and Workplace—with RF.Studios and tech incubator RF.TechLab providing cutting-edge predictive analytics, breakthrough creative, and customer-focused digital engagement. Ruder Finn has offices across 3 continents including the U.S., Asia and Europe. Wholly owned agencies within Ruder Finn Group include: Ruder Finn Inc., Osmosis Films, Touchdown, Peppercomm, Comunicad, Mantis, RLA Collective, jacobstahl, RF Bloom, and SPI Group. For more information visit www.ruderfinn.com. 
Submit