Press Release
New Ruder Finn Survey Shows Consumers Want Brands to Listen But Don't Expect Them to Agree
Feb 13, 2023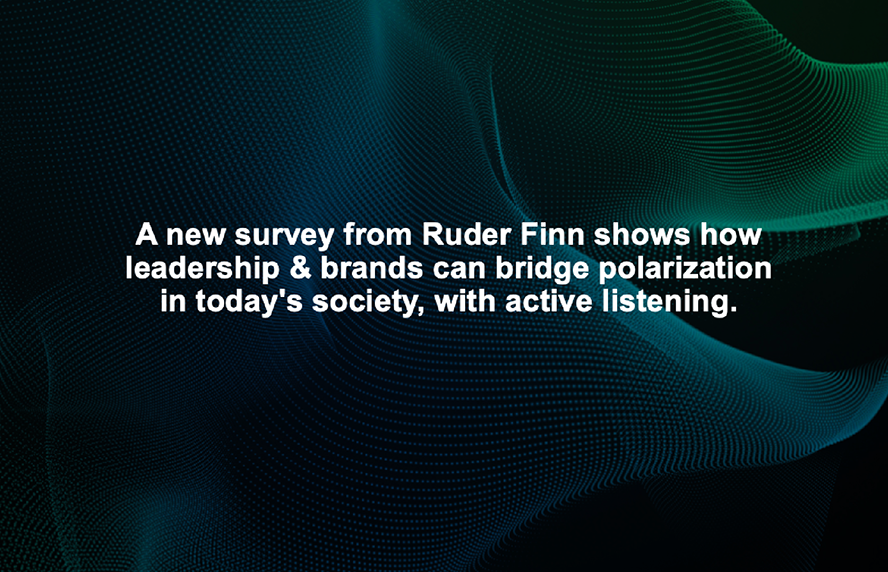 Survey Demonstrates How Creating Opportunities for Consumers to Express Themselves Breeds Positivity
NEW YORK – 02/13/2023 – Ruder Finn has unveiled new survey findings showing how active listening can help companies better engage consumers in a fragmented world. This research found that leaders and companies need not define a position on a polarizing issue, but can engender positivity simply by demonstrating that they're listening. ​
The survey called "Collaboration & Consensus: Do Consumers Feel Heard?" questioned whether consumers felt listened to by brands, and how much consumers wanted to hear from brands on public issues. Key findings included:
Consumers want to be heard: Most consumers (57%) actively engage with brands either through online commenting or direct outreach.
Engagement breeds positivity: Consumers are four times more likely to express positive feedback than negative and seven times more likely to feel more positive about a brand after engaging with them.
People want brands to show that they're listening: 93% of consumers believe that brands should react to public opinion.
But listening doesn't mean agreeing: 43% of consumers would feel that a brand listens to them, even if the brand took an opposing stance on a public issue, as long as the company demonstrated that it heard their point of view.
People feel brands listen, but can still do more: Consumers are three times more likely to say brands listen to individuals and six times more likely to say brands listen to groups. But only about 1 in 2 say it's easy to contact brands, with 38% of Gen Z saying it's easy to contact brands compared to 53% of Millennials and 58% of Gen Xers.
"The results of our latest survey indicate the importance of an empathetic leadership style that demonstrates listening when engaging today's consumer," said Kathy Bloomgarden, CEO of Ruder Finn. "This research also found that leaders and companies need not take sides on polarizing public issues, but suggests they should allow discourse between all voices, honoring both negative and positive views. It's more important to show that you're listening than it is to speak out. This has significant implications for today's leadership style and determining how leaders engage with groups with different opinions."
The survey's sample consisted of 1,000 U.S. consumers ages 16 and above, who were surveyed between December 19, 2022, and December 20, 2022. This survey was conducted and analyzed in collaboration with Full Spectrum Insights with the sample procured using the Pollfish survey delivery platform, which delivers online surveys globally through mobile apps, the mobile web, and the desktop web. The sample was screened based on whether the respondent had engaged with any brands in the last six months with a qualified engagement considered to be any of the following actions: wrote an online review, contacted/reached out to a brand, or boycotted a brand. No additional screening or weighting was applied to the sample.
For more information on the results of Ruder Finn's "Collaboration & Consensus: Do Consumers Feel Heard?" survey, visit https://ruderfinn.com/collaboration-and-consensus/.
About Ruder Finn
Ruder Finn is one of the world's largest independent global communications and creative agencies. Founded in 1948, Ruder Finn has defined and redefined PR for 75 years, shaping communications that help move industry-defining brands, companies and leaders from what's now to what's next. Ruder Finn provides clients with bold communications strategies based on a global perspective and localized market knowledge that redefine leadership, reimagine the marketplace, and rethink customer experiences around a shared sense of purpose. The agency is organized around five core areas of expertise—Healthcare, Technology, Commerce, Leadership and Workplace—with RF.Studios and tech incubator RF.TechLab providing cutting-edge predictive analytics, breakthrough creative, and customer-focused digital engagement. Ruder Finn has offices across 3 continents including the U.S., Asia and Europe. Wholly owned agencies within Ruder Finn Group include: Ruder Finn Inc., Osmosis Films, Touchdown, Peppercomm, Comunicad, Mantis, RLA Collective, jacobstahl, RF Bloom, and SPI Group. For more information visit www.ruderfinn.com.
Submit