News
Joe Avila Joins Ruder Finn as Senior Vice President of RF Comunicad
Jan 27, 2023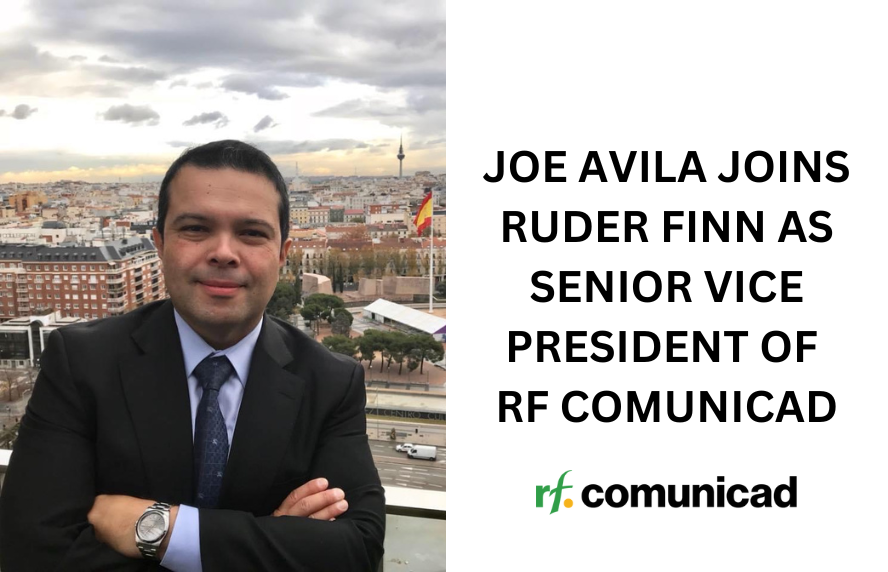 NEW YORK, 1/27/2023– Leading global communications agency, Ruder Finn, announced the appointment of Joe Avila as Sr. Vice President of RF Comunicad, the company's Hispanic division. In this capacity, he will bring his extensive brand community engagement knowledge and experience to the business development practice, showcasing the value and impact of Latinos to corporations.
Joe Avila brings his 20-plus years of experience as a leader who has developed meaningful brand strategies and innovative campaigns to authentically engage brands and corporations with multicultural audiences. His work has touched on social economic impact, DEI and community development to build long-lasting brand trust for Fortune 500 companies in various industries. Through his strong multicultural background and ability to quickly navigate global and diverse communities, he has successfully helped companies achieve ambitious business objectives. Joe has served in nonprofit boards in the U.S. and abroad, further establishing him as a leader in multicultural market development.
Avila completed his bachelor's degree in political science at Rafael Urdaneta University in Venezuela and holds both an MBA degree and a master's degree in International Management from the University of Denver. He completed the Corporate Social Responsibility Certification from Harvard Business School and the Lean Management & Continuous Improvement Certification from the University of Michigan. Joe was recognized as part of the Fundación Carolina Hispanic Leaders fellowship program in Spain.
Reporting directly to Gloria Rodríguez, President of RF Comunicad, Avila will lead the division's business development and operations in the U.S., Latin America and Spain.
"With Joe on our RF Comunicad team, we are now better positioned to proactively recognize multicultural market shifts and leverage cultural differences, as an essential part of doing business," said Rodríguez.
"I am excited to join Ruder Finn, one of the most recognized global communications agencies, and that understands the value of the Hispanic markets and its significance to generate long-lasting growth. I look forward to collaborating with its talented teams to augment the Hispanic practice in service of our present and future clients," said Avila.
About Ruder Finn
Ruder Finn is one of the world's largest independent global communications and creative agencies. Founded in 1948, Ruder Finn has defined and redefined PR for 75 years, shaping communications that help move industry-defining brands, companies and leaders from what's now to what's next. Ruder Finn provides clients with bold communications strategies based on a global perspective and localized market knowledge that redefine leadership, reimagine the marketplace, and rethink customer experiences around a shared sense of purpose. The agency is organized around five core areas of expertise—Healthcare, Technology, Commerce, Leadership and Workplace—with RF.Studios and tech incubator RF.TechLab providing cutting-edge predictive analytics, breakthrough creative, and customer-focused digital engagement. Ruder Finn has offices across 3 continents including the U.S., Asia and Europe. Wholly owned agencies within Ruder Finn Group include: Ruder Finn Inc., Osmosis Films, Touchdown, Peppercomm, Comunicad, Mantis, RLA Collective, jacobstahl, RF Bloom, and SPI Group. For more information visit www.ruderfinn.com.
Submit