Blog
Four Takeaways From This Year's RSA Conference
Jun 20, 2023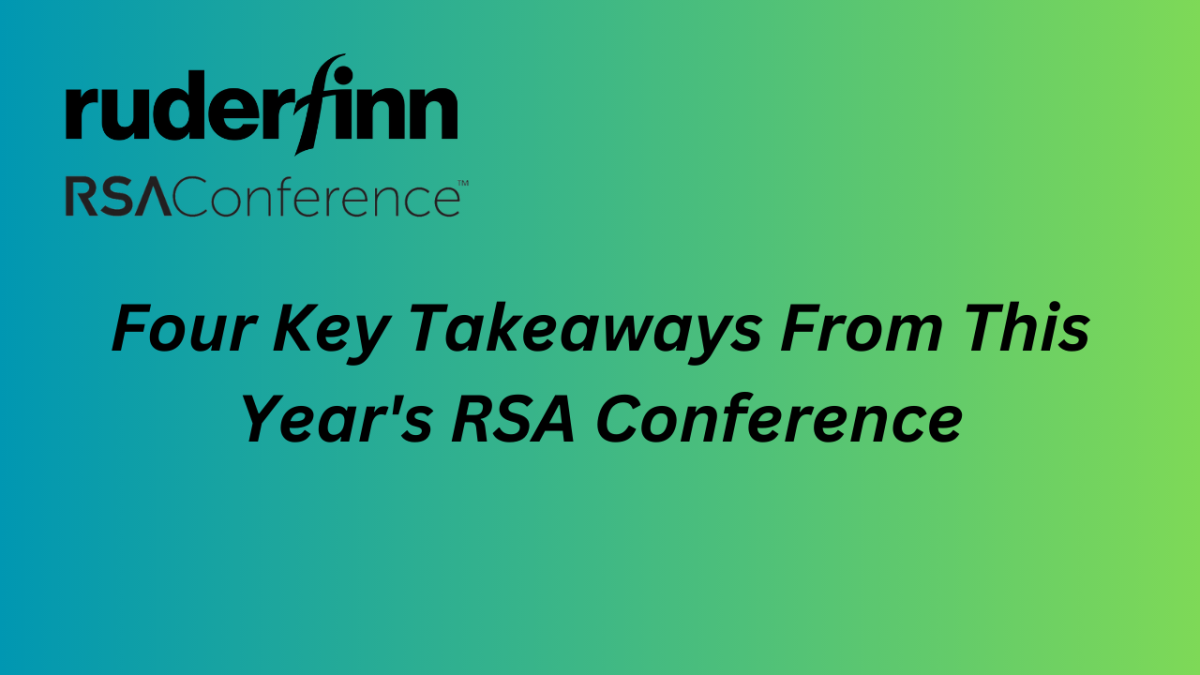 Every year, Ruder Finn supports several clients at RSA, one of the biggest cybersecurity events in the U.S. The pandemic we've all endured during the past three years has had an immense impact on the structure of events, and it's been increasingly difficult to navigate changing formats as organizers have tried to adapt to the various stages of COVID-19 concerns. However, after a couple of tenuous years of juggling the virtues of virtual and on-site experiences at shows like RSA, we were back at the Moscone Center in 2023, supporting clients in-person. Being on the ground at the event helped our team to gather some helpful insights as we prepare for future events, both within the cyber sector and beyond. Here are a few key learnings and considerations: 
Early company announcements can help brands cut through the noise 
This year, many companies announced news before RSA, which made it easier to generate coverage and stand out before the event. That said, making news prior to the event may make it more difficult to secure interviews or additional coverage on-site. Opting for pre-show announcements may require a fresh approach to how your client shows up on-site. For example, consider more immersive experiences on-site or holding back one piece of news to create an additional news moment during the show. That said, advanced announcements do provide the opportunity for additional media tactics, such as an exclusive media roundtable with top tier, trade press, and analysts. 
It's all about AI: AI and XDR were top coverage drivers
Top company news came from brands that announced the launch of new or enhanced XDR services, and those that announced new partnerships to enhance AI capabilities. Overall, AI and XDR drove headlines pre and post RSA, making it harder for anyone outside those topics to cut through the noise or be included in meaningful roundups. Almost half of the articles stemming from RSA were about AI and its impact on the space. 
Pay up: Smaller media attendance resulted in increased emphasis on paid 
Before the show, we spoke with several reporters about their coverage plans for RSA, and perhaps unsurprisingly, many outlets sent a skeleton crew to RSA this year. In fact, many of the most influential publications covering the event sent only 1-2 reporters this year, making their schedules even more limited than usual. Further, we learned that a few reporters that had planned to attend were taken off the road as some publications had cut back on attendance. 
Additionally, there was an increase in publications doing paid opportunities only, like ITSP Magazine, TechStrong, Dark Reading, and several security podcasts. Heading into RSA 2024 with a robust paid media strategy to supplement your media relations efforts could lead to more substantial surround sound for announcements and news. 
Big, flashy expos stole the show – and "cooked up" increased foot traffic to booths
At RSA, many vendors went above and beyond with their exhibitions in order to attract attendees. For example, One exhibitor called "Wiz" had characters walk around the floor that mirrored the Wizard of OZ (Dorothy, Tin Man, etc.) This was a very cost-effective way to generate buzz for their booth, and a great way to encourage attendees to further inquire about their company. Other exhibitors had massive booth designs, giveaways, celebrity spokespeople, and interactive games and VR experiences that also helped to drive foot traffic.
However, the flashiness didn't stop at the showroom. Many exhibitors like Mandiant and Palo Alto Networks also created pop-up shops near the showroom and handed out free goodies and rented out venues to host after parties after each day of the event. This provided a unique way to engage with attendees other than waiting for them to come and visit the booth. 
Lastly, exhibitors offering food also generated a lot of buzz. There were booths that offered popcorn, cookies, etc. that had very long lines as everyone was looking for a quick snack after being at the conference all day. While this most likely didn't generate sustainable leads, it was a great way to get people in the booth to scan their badge which contained all of their contact information. While attendees waited in line, this also gave exhibitors a chance to educate them about their company, fill out surveys, and more. 
Overall, attending the event in person brought several meaningful takeaways that not only will help our clients at upcoming events, but will also help our team from a strategic planning perspective moving forward. It was clear that exhibitors that went all in – both investment and activation wise – reaped the most benefit and is something that should be kept in mind for all events in the future. 
Submit